British Invaders 232: The Clifton House Mystery (Part 1)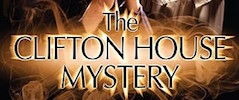 The Clifton House Mystery was a 1978 haunted house serial from ITV. When the Clare family buys an old house in the Clifton area of Bristol, they find more than they expect….
Please send us your comments, questions, requests and complaints. You can reach us at britishinvaders@gmail.com, and you can find us on the British Invaders Facebook Group. British Invaders is an audio podcast that discusses television shows. We do not distribute the shows themselves.
Podcast: Play in new window | Download (Duration: 21:58 — 15.1MB)
Subscribe: RSS