British Invaders 233: The Clifton House Mystery (Part 2)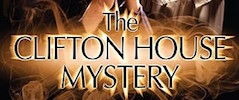 The Clifton House Mystery was a 1978 six-part serial from ITV. The Clare family's new home has more than just some old things in it. How will the family react to living in a haunted house?
Please send us your comments, questions, requests and complaints. You can reach us at britishinvaders@gmail.com, and you can find us on the British Invaders Facebook Group. British Invaders is an audio podcast that discusses television shows. We do not distribute the shows themselves.
Podcast: Play in new window | Download (Duration: 29:32 — 20.3MB)
Subscribe: RSS